The Bellamys are one of the richest, most powerful families in the world, but with the loss of their patriarch, billionaire heirs Rylan, Lexie, and Evan are left to find their own paths in the world. Whether their futures lie with the company their father built or elsewhere, their stories are full of scorching passion and intense love. Follow them to fantastic destinations all over the world, and meet the people who will challenge them to embrace their destinies.
Kate arrives in Paris hoping to find inspiration. Instead she finds Rylan. In a swirl of stolen kisses and hot, tangled sheets, Kate is quickly swept away by the sexy stranger, longing to surrender to his expert touch. With Rylan, nothing is forbidden—except the truth.
An American ex-pat worth millions, Rylan never flaunts his fortune. Rather, he guards his identity from everyone, especially women. No strings, no commitments, no complications. But the second his lips taste Kate's soft, sweet skin, everything changes. For the first time Rylan has found someone to share his every want and need. Yet he knows that secrets stand between them. To keep her, he'll need to confess the truth before it's too late . . . even if doing so could mean losing Kate forever.
Amazon – Barnes & Noble – iTunes – Google Play – Kobo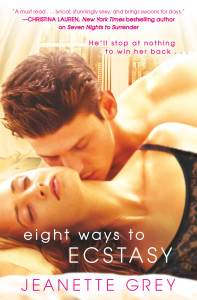 Kate Reid's whirlwind romance with billionaire playboy Rylan Bellamy complicated her life in ways she'd worked to avoid. She'd fallen hard for his flirtatious charm and given him the one thing no other man had: her trust. Just as Kate began to imagine a future with Rylan, everything fell apart.
Now she's starting over in New York…but even the glittering streets of Manhattan can't erase the memory of Rylan knocking her off her feet and sweeping her into the most erotic, unforgettable week of her life.
It's been months, and Rylan still can't forget Kate. Months since he bared his soul at her feet. Months since he drove away the only woman to ever make him feel. Kate changed his world and now Rylan is determined to win her back-no matter what it takes. After crossing an ocean to reach her, he makes a deal with Kate: One more week, for one more chance. Now it's up to Rylan to show Kate all the ways they fit together . . . and prove that this player has met his perfect match.
Amazon – Barnes & Noble – iTunes – Google Play – Kobo
A sexy standalone novel in acclaimed author Jeanette Grey's Art of Passion series.
NOT SUITABLE FOR WORK
Lexie Bellamy can handle a boardroom. Relationships, however, are a minefield that always blow up. When a business trip takes her to Spain, Lexie knows she'll have no problem closing the deal. But spending uninterrupted one-on-one time with her crazy-hot coworker might be more than she can take.
At the office, Lexie gets to call the shots. But this trip is the perfect opportunity for Dane Huntley to show his gorgeous boss how good it can feel when someone else takes charge…
Miles away from home, giving in to Dane's naughty commands feels so easy. But when the trip is over, Lexie's determined to go back to their professional relationship. Dane, though, has other ideas. He'll have to prove that what they've found together is real… and he has no intention of letting go.
Amazon – Barnes & Noble – Kobo – iTunes – Google Play