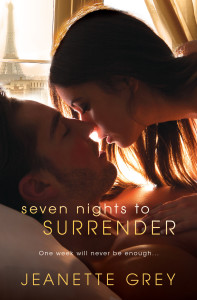 By day, he'll show her a side of Paris not found in any guidebook. By night, he'll introduce her to a passion beyond her wildest dreams. In this sensuous story of indulgence and desire, Jeanette Grey delivers one of the most romantic reads of the year, and proves why she is fast becoming a must-read star.
SEVEN NIGHTS TO SURRENDER
Kate arrives in Paris hoping to find inspiration. Instead she finds Rylan. In a swirl of stolen kisses and hot, tangled sheets, Kate is quickly swept away by the sexy stranger, longing to surrender to his expert touch. With Rylan, nothing is forbidden—except the truth.
An American ex-pat worth millions, Rylan never flaunts his fortune. Rather, he guards his identity from everyone, especially women. No strings, no commitments, no complications. But the second his lips taste Kate's soft, sweet skin, everything changes. For the first time Rylan has found someone to share his every want and need. Yet he knows that secrets stand between them. To keep her, he'll need to confess the truth before it's too late . . . even if doing so could mean losing Kate forever.
An exciting new erotic romance, available now from Forever Romance
Amazon – Barnes & Noble – iTunes – Google Play – Kobo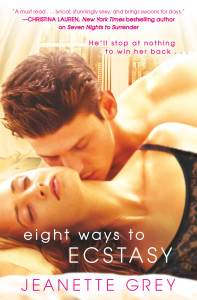 "A must read . . . lyrical, stunningly sexy, and brings swoons for days."– Christina Lauren, New York Timesbestselling author on Seven Nights to Surrender
In this stunningly sensual sequel to Seven Nights to Surrender, acclaimed author Jeanette Grey reunites readers with a young artist and the man who'll stop at nothing to have her…
EIGHT WAYS TO ECSTASY
Kate Reid's whirlwind romance with billionaire playboy Rylan Bellamy complicated her life in ways she'd worked to avoid. She'd fallen hard for his flirtatious charm and given him the one thing no other man had: her trust. Just as Kate began to imagine a future with Rylan, everything fell apart.
Now she's starting over in New York…but even the glittering streets of Manhattan can't erase the memory of Rylan knocking her off her feet and sweeping her into the most erotic, unforgettable week of her life.
It's been months, and Rylan still can't forget Kate. Months since he bared his soul at her feet. Months since he drove away the only woman to ever make him feel. Kate changed his world and now Rylan is determined to win her back-no matter what it takes. After crossing an ocean to reach her, he makes a deal with Kate: One more week, for one more chance. Now it's up to Rylan to show Kate all the ways they fit together . . . and prove that this player has met his perfect match.
The Stunning Sequel to Seven Nights To Surrender – available now from Forever!
Amazon – Barnes & Noble – iTunes – Google Play – Kobo
"A must-read… lyrical, stunningly sexy, and brings swoons for days."
— Christina Lauren, New York Times bestselling author on Seven Nights to Surrender
A breathtaking erotic romance by acclaimed author Jeanette Grey featuring Lexie Bellamy and Dane Huntley.
Book #3 in the Art Of Passion series — available now from Forever
Amazon – Barnes & Noble – Kobo – iTunes – Google Play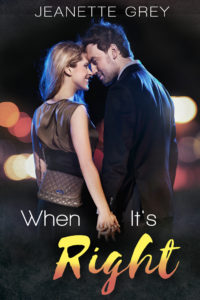 Twenty-four hours to get to Times Square for New Year's Eve. A broken down car. And a best friend she's been in love with for years. What could possibly go wrong?
Still licking his wounds after a messy breakup, Nate cajoles his best friend Cassie into taking off on an impromptu road trip to Times Square for New Year's Eve. Little does he know, Cassie's made resolutions of her own—resolutions about finally getting over being in love with Nate. Seeing the trip as a 'last hurrah', she agrees to go, but has no idea what she's getting herself into.
Before they can even manage to leave, the trip is a fiasco. Nate's car won't start, and then a freak storm leaves them stranded on the side of the road. With everything going wrong—and with Cassie's confession of her feelings for him ringing in his ears—Nate's forced to realize that the one thing truly right about his life has been in front of him all along.
Note: This book was previously released by Samhain Publishing
 Buy now: Amazon – Barnes & Noble – iTunes — Kobo

Love isn't rocket science. It's much, much harder.
Determination and elbow grease propelled Greg London from blue-collar background to Ph.D. candidate. His single-mindedness doesn't leave a lot of room for a personal life, but that's the price of success. Besides, it's not like the boring nerd ever ends up with the hot guy.
Then his housemate, gorgeous undergraduate jock Marshall Sulkowski, invites him to watch a movie. In his room. Side by side on his bed. Needless to say, the sexual tension is wreaking havoc with Greg's focus.
Marsh seems to have it all—looks, charm, and a baseball scholarship to a great school. In reality, his father's cut him off, and he's floundering and desperate for a break.
One impulsive kiss leads to a red-hot affair that gets them a little bit of what they need to stay afloat. But as the end of the semester approaches and the pressure rises, Marsh realizes charm may have gotten him into his brilliant lover's pants, but he'll have to dig deeper to discover what they both need.
Note: This book was previously released by Samhain Publishing
Find it on: Amazon – Barnes & Noble – iTunes – Kobo – GoodReads
Don't miss this RITA® Award Finalist for Best Romance Novella and one of Library Journal's Best Romance E-books of the Year…
Ellen Price thought she knew what she wanted. Intent on getting into medical school, she's spent all her time studying and working. But when she's left all alone for spring break, she's forced to confront the emptiness in her life. For just one week, she decides to shed her worries and her good girl image to become the kind of woman she's always secretly wished she could be. The kind who takes what she want, starting with the hot guy at the bar.
At first, Josh Markley isn't sure what to think when the quiet, beautiful woman from his classes approaches him for a night of casual sex. He's even more mystified when she acts as if she doesn't know who he is, but he goes along with her assumptions and takes what she offers. Their passionate night together is a welcome respite from the stressful decisions he's been grappling with, but afterward, he can't let her go. He wants more—from her, from life and from himself.
They may have started out pretending to be other people, but that won't stop them from helping each other discover who they really are.
A 2017 RITA® Award Finalist for Best Romance Novella!
Baby, it's cold outside . . .
'Tis the night before Christmas Eve and Holly wishes she hadn't volunteered to work the night shift. The weather is frightful and getting worse by the minute, and the same old annoying carols are blasting from the bookstore's speakers. But Holly's holiday spirit returns when the store's sexy new assistant manager arrives to keep her company. He has muscled arms, baby blue eyes, and a sweet pair of lips she wouldn't mind meeting under the mistletoe.
Sam is glad the snow is keeping away customers-it gives him a chance to get close to his favorite employee. Holly has always been a mystery to Sam, like a beautiful present he'd love to unwrap. When they're trapped by a full-blown blizzard, Holly breaks into the Christmas cookie display. Sam busts out a bottle of vodka from the boss's office. Soon the two are trading heated kisses-as well as secrets neither has ever felt safe enough to tell before. What started out as one naughty night together turns into something so much more.
A stand-alone holiday novella, available from Forever Yours
Amazon – Barnes & Noble – Kobo – iTunes – Google Play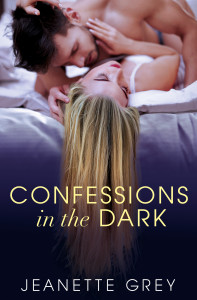 Whispers in the night lead to sweet surrender . . . but what will the dawn bring?
Anger. Guilt. Sorrow. They've strangled Cole for years-and now they've literally damaged him. With his knee out of commission, Cole knows the road to recovery will be nothing but long and irritating . . . until his beautiful and determined neighbor offers to help him in return for a favor. But soon Cole finds himself offering her so much more. Their unexpected passion lays Cole bare, body and soul. And leaves him wondering how he'll walk away before he ruins her life, too.
Gruff, secretive, and coiled with tension that begs for release, Cole is too intriguing for Serena to resist. The English accent and brooding brown eyes don't hurt, either. Their nights are beyond compare-yet the truths Cole confesses in his darkest moments reveal a heart bruised almost beyond repair. But Serena's seen the kindness and support he shows when she needs it most. Armed with a bottomless well of patience and devotion, she'll show Cole just how good it can be to let someone in . . .
A new contemporary romance coming March 1, 2016 from Forever Yours
Amazon – Barnes & Noble – iTunes – Google Play – Kobo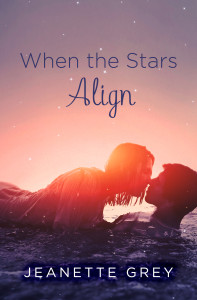 Their passion burned hotter than the stars . . .
For Josephine "Jo" Kramer, nothing has ever been easy. When she earns a summer internship in Puerto Rico, working at one of the world's preeminent scientific facilities, she'll let nothing distract her. Not her own insecurities, not the arrogant scientists, and definitely not her tall, chiseled research partner, Adam.
For Adam McCay, physics is simple-it's women who are complicated. Especially brilliant, beautiful ones like Jo. From the moment they meet, he can feel the heat smoldering deep beneath her icy exterior. And Adam knows just what it will take to make Jo melt . . .
Under the endless stars of a tropical sky, Jo and Adam indulge their every desire. But as their internship comes to an end, their perfect island paradise is threatened. Was their time together a summer fling? Or is their passion hot enough to last the long winter nights?
A new adult romance, available now from Forever Yours.
Amazon – Barnes & Noble – iTunes – Google Play – Kobo
Taking Aim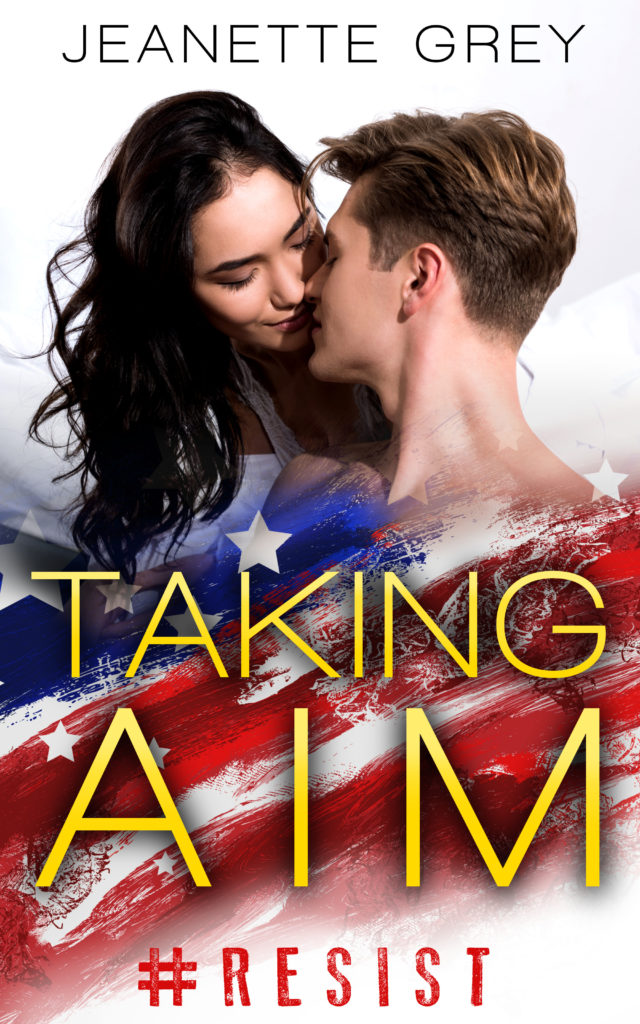 Teacher Julie Chao never wanted to be an activist. But after a shooting at her school, she can't stay silent any longer. When a mysterious, gorgeous stranger offers advice on getting her message out, she takes it. But the man is clearly hiding something. They may have chemistry, but how can she trust him, once she finds out who he really is?
Amz: https://amzn.to/2JMGhlx
BN/iTunes/Kobo: https://books2read.com/u/meB2xz