"I couldn't put it down! I loved every sentence! The writing is outstanding, the setting entrancing, and the characters stole my heart. Fresh, flawed and instantly lovable, you'll root for Jo and Adam at every turn. "
—S. C. Stephens, #1 New York Times bestselling author
"The heat of the island has nothing on the off the charts attraction that sizzles between its feisty and fiercely unique heroine and idyllic hero. The journey to being the best you is often equal parts beautiful and tragic, and Gray sets the scene perfectly. A sassy and sexy read full of heart and adventure. This romance is like a breath of fresh air."
—Jay Crownover, New York Times bestselling author.
"Once I started I could. not. stop. I loved every word. Refreshing characters. Unique setting. And a plot that will have you smiling all the way through. When The Stars Align is a breath of fresh air with a heroine who breaks the mold. Jeanette delivers a sexy read filled with the wonder of discovering who you are, what you want, and how to love despite your best laid plans. This story will leave your heart full and your hands wishing for more. Absolute brilliance!"
—Chelsea Fine, author of Best Kind of Broken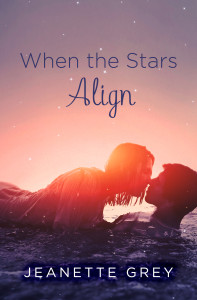 Their passion burned hotter than the stars . . .
For Josephine "Jo" Kramer, nothing has ever been easy. When she earns a summer internship in Puerto Rico, working at one of the world's preeminent scientific facilities, she'll let nothing distract her. Not her own insecurities, not the arrogant scientists, and definitely not her tall, chiseled research partner, Adam.
For Adam McCay, physics is simple-it's women who are complicated. Especially brilliant, beautiful ones like Jo. From the moment they meet, he can feel the heat smoldering deep beneath her icy exterior. And Adam knows just what it will take to make Jo melt . . .
Under the endless stars of a tropical sky, Jo and Adam indulge their every desire. But as their internship comes to an end, their perfect island paradise is threatened. Was their time together a summer fling? Or is their passion hot enough to last the long winter nights?
A new adult romance, available now from Forever Yours.
Amazon – Barnes & Noble – iTunes – Google Play – Kobo