Jeanette Grey will be conducting a two week long virtual book tour in support of her upcoming release, Unacceptable Risk, a cyberpunk romance novella, releasing December 13, 2011, from Samhain Press.
The tour will run from December 9 through December 23, and each stop will feature an ebook giveaway.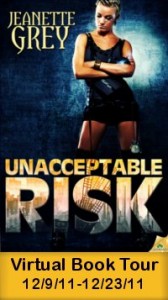 Plix spends her lonely, gritty life trying to solve the mysteries her father left behind. Armed with a variety of cybernetic enhancements and a talent for getting into places she shouldn't be, she searches for clues to his murder-and who's responsible for poisoning her city.
Waking up on a street corner with her brain wiring fried to a crisp, she figures she must have gotten close this time. There's only one man she trusts to pull her back from the brink: a tuner who can retrieve the evidence hidden deep in the recesses of her mind. A man she dares not let too close to her heart.
When Edison downloads a secret SynDate schematic from Plix's burnt-out circuitry, he knows with dreadful finality that nothing-not even the fiery kiss he's been holding back for years-will stop her from pursuing her quest past the point of insanity.
All he can do, as he helps her plan her final mission, is ease her pain, watch her back.and hope one of them doesn't pay with their lives.
12/9/2011 – Laura Kaye
12/10/2011 – Sam, Elena and Rhonda's Awesomeness
12/11/2011 – Coffee Time Romance
12/12/2011 – The Book Nympho
12/13/2011 – Smart Girls Love SciFi
12/14/2011 – Sarah Grimm
12/15/2011 – Galaxy Express
12/16/2011 – Jessica Subject
12/17/2011 – Love to Read Reviews
12/18/2011 – Reading Reality
12/19/2011 – Sandra Sookoo
12/20/2011 – Cari Quinn
12/21/2011 – You Gotta Read Reviews
12/22/2011 – Book Lover's, Inc.
12/23/2011 – Romancing the Book