Three, count 'em, three days until my holiday story, A Gift of Trust, releases from Silver Publishing. It's a super-sexy, contemporary M/F romance about reconnecting and second chances. Hearts will be broken and healed, all against the backdrop of a wintery, small town Christmas.
When Matt was forced to move away, suddenly and without warning, the day after taking her to the Christmas Ball, he broke Lib's heart and shattered her ability to trust in love.

Three years later, he's the last person she expected to run into on a bus heading home for the holidays.

As the two of them reconnect, Lib finds herself just as drawn to him as ever, but her wariness compels her to keep her distance. Devastated by his failure to keep in touch over the years, she's determined to protect her heart–almost as determined as he is to make up for lost time. Matt seems intent on winning her love. But this time, he'll first have to earn her trust.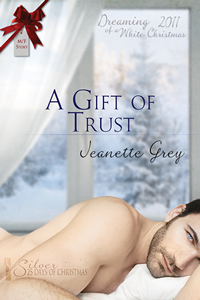 To celebrate, I'm giving away one PDF ebook of A Gift of Trust. All you have to do to enter is comment below with your email address, sometime between now and midnight (EST) December 6. One winner will be chosen randomly, and I'll contact the winner on release day – December 7.
Happy holidays!