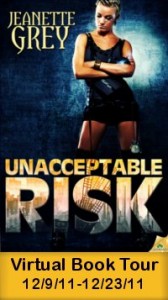 The Unacceptable Risk blog tour is winding down, but there are still outstanding opportunities to enter to win a free copy:
Believing Is Seeing (open until 12/23, 3 entries as of 12/22)
You Gotta Read Guest Reviews (open until 12/28, ZERO entries as of 12/22)
Book Lovers, Inc. (open until 1/7, 5 entries as of 12/22)
The last stop on the tour posts tomorrow at Romancing The Book.
Also, the first reviews have been starting to come in for Unacceptable Risk, and so far they are fantastic. 5 stars from Bitten by Paranormal Romance, 4.5 stars from Book Lovers, Inc., 4 stars from The Book Nympho, Reading Reality, and Guilty Pleasures.
I'll have more thoughts on the launch once everything settles down. But so far, I am so pleased with the response.
Thanks for reading!