I'll admit it: this time last week I was an absolute wreck. After months and months of looking forward to it, this year's national RWA convention was finally here. Did I have enough cool clothes? Were my shoes amazing enough? Shouldn't I get around to writing that pitch I was supposed to give? Would I clam up and have a panic attack right before my first ever book signing?
Happily, my outfits and shoes were all a hit, and I felt confident and prepared walking into what turned out to be a very successful pitch appointment. I went to some great workshops and learned a lot.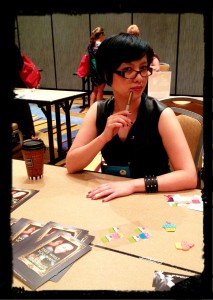 And did I mention that I had my very first book signing?
I can hardly tell you how exciting it was to meet readers and potential readers. Because Take What You Want is only available in e-book format, I signed postcards as opposed to actual hard copies of the book, but still. Talk about a dream come true.
And it gets even better. My publisher, Samhain, was generous enough to provide some extra download codes for the book, so I can share at least a little bit of the excitement of RWA with those of you who couldn't be there.
Enter to win one of three free download codes for the book by leaving a comment below with your email address. I'll choose the winners on Monday, July 29.
Thanks, and good luck!
The fine print: By entering, you agree to be added to my mailing list, which will enable you to receive occasional updates about my new and upcoming releases. Seriously, I promise there won't be very many. I will never sell, share, or otherwise abuse your information. You may unsubscribe at any time. Winners will be chosen using the random number generator at random.org